Every Friday one of us called our nephew Luke or he called us.
We started with the weather. He always knew the highs and lows, if it was a pleasant day or storms were stirring. He couldn't see what was happening outside – he started losing his vision at age 12 — but he knew.
We talked about ball teams, outrageous headlines in the news and building projects his dad and brother had undertaken. He was always upbeat. We chatted about what his 5-year-old nephew and baby niece were up to. We shared antics happening in our wing of the family, stories about rascally grandkids, a frog-jumping contest and outdoor adventures, all the things he enjoyed as a boy.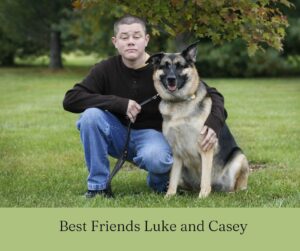 Our phone calls grew louder over the years. He had lost most of his hearing. Ours isn't great either, so we were entirely comfortable with the volume on high.
As Luke's condition rapidly deteriorated, we drove back to Missouri for a final visit, flying along hours of interstate, finally turning onto small highways that wind through golden pastureland and tree-covered hills. Each up and down of those hills is an invitation to reach out and touch the deep blue sky.
Luke did just that. He reached out and touched the sky. He slipped the bonds of earth and suffering and returned to his Creator.
My mother anguished terribly over her grandson's situation. When he lost his sight she would say, "I wish I could take my eyes out and give them to him." If she could have, she would have.
Someone commented that there are a number of people in heaven glad to see Luke. They may even be fighting over him. If they are fighting, the consensus is that it will be my mother who wins.
Most people with Kearns-Sayre syndrome don't make it past 30. Luke made it to 38.
We covered a lot of ground in our Friday conversations, but there were some things we never heard him say.
He never said, "I quit." Or "I can't." Not when the mitochondrial disease targeted his sight, his hearing, his balance, his heart and every major system in his body. He came by fortitude naturally. He got it from his parents.
His mom and dad never said, "I can't" or "I quit" either.
They leaned into the wind. Gale force wind, the kind that whips your hair, burns your eyes and sucks the air from your lungs. With each setback, each punch in the gut, each round of awful test results, they leaned in harder.
They are my heroes.
Few people in this world have their kind of strength. It is a strength fueled by a mother and father's undying love.
Fridays will never be the same.
Comments
comments