Our youngest grand announced she wanted a surprise birthday party when she turned five.
Her wish came true. It was a farm theme party with a barn door made from a red plastic tablecloth, popcorn wrapped in cello bags and green tissue for corn on the cob and Rice Krispie treats labeled hay bales. Three large plastic horses, a plush pig stuffie and an old saddle rounded out the décor.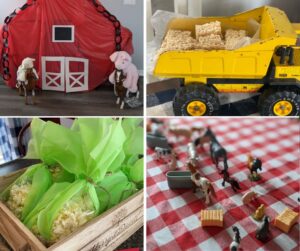 The birthday girl, wearing her fluffy pink pig costume went on an "errand" with her dad to Tractor Supply. The rest of us then received an all-clear text saying, "The pig has left the building."
We slipped in, found hiding places and waited. The front door opened, they walked in. Aunts, uncles, cousins, grandmas and grandpas, jumped out yelling, "SURPRISE, HAPPY BIRTHDAY!"
The pig froze. Absolutely froze. We all froze waiting for a response. The pig didn't respond, didn't oink, smile, wiggle her tail or say a word. It looked like she was going to cry.
Who would approach the child, now traumatized by the surprise birthday party of her dreams? Mom. That's who. That's always who. Mom held her close and softly explained what was happening. Still no response.
Great. The child may need therapy. At the very least she will never again go to a Tractor Supply.
Isn't that how it goes? You finally get what you always wanted and discover you didn't really want it after all.
Then someone said, "Look! Presents!"
The birthday girl slowly, carefully, hesitatingly opened a gift. How could she know what might jump out of the gift bag? Her color gradually returned. She began to thaw and return to life. Ten minutes later she was threatening any cousin who would dare blow out her birthday candles before she could. Taking no chances, she blew them out after the first "Happy Birthday to . . . "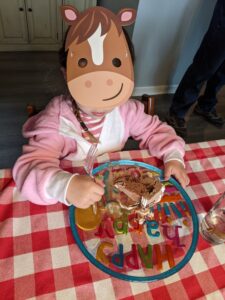 What a relief. It looked as though she would be OK. Then someone said, "Every family birthday party this year should be a surprise party." (We are slow learners.)
One of our sons-in-law announced he'd like a surprise birthday party. Then he made the mistake of falling asleep on the couch.
Someone suggested a Go Navy theme surprise party. He is a West Point alum and Army veteran. When he woke up, we told him our plans. He said we were all uninvited.
I happened to know our girls were planning a surprise anniversary party for us. I told them we didn't want one. They said, "Surprise! You're having one anyway."
I said, "OK, but—Surprise!—it  needs to be at our house and the theme will be Patch and Repair." I made it clear the patch and repair would not be on us, but a work party to remove roots from an 85-foot pine tree that toppled in high winds.
I texted our son and said, "Can you bring a chainsaw to our surprise anniversary party?"
He didn't even question why, just said sure.
My better half likes surprises. This will be a great one.
My birthday is six months away. My surprise for them is that I plan on being out of town.
Comments
comments