The problem with moms is that they're old from the first day you get one. The moment you lock eyes with your mom it is clear she is larger than you are, older than you are and smarter than you are (at least for a few years). She doesn't drool and never sticks her thumb in her eye.
Eventually, you begin noticing other things, too—how your mom can ride a bike without training wheels, cut her own meat, and sometimes dress up so fancy that you hardly recognize her.
Naturally, you look up to a woman like that. She's an imposing presence. This complex creature can love you tenderly one minute and put the fear of God into you the next.
A mom is doctor, nurse, first responder, chief cook and bottle washer, housekeeper, teacher, coach and comforter. From a child's vantage point, it looks like she knows everything about everything. It is hard to imagine there was a time when your mother wasn't a mother. You assume your mom was always a mom—that she was born a mom.
One of my favorite cartoon panels is a mother with two small children seated at a bar. The mom is wearing a sleeveless shirt showcasing an upper arm tattoo reading, "Born to Raise Kids."
The thing is, nobody is born a mom. Becoming a mom is the ultimate in on-the-job training. Sure, you can read all the experts, you can even do motherhood by Google, but the experts and Google don't know your children. Nobody knows your children like you do.
Nobody.
Motherhood is a never-ending process of discovery. In most cases, slowly but surely, a mother learns how to read a child.
Moms develop a sixth sense that can tell from across a room when a child doesn't feel well, or watch a child walk in the door and intuitively know something is wrong.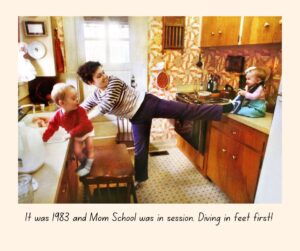 Mom School happens one day and one season at a time. It's a branch of education you'll never be awarded a degree for or walk across a stage in a cap and gown and hear your name called out for completing the course of study. Mama cum laude never happens. Motherhood is a course of study that never ends.
Our babies are all grown now. They have become moms and dads. But I can still tell from across the room when one is tired, off-kilter or concerned about one of their own.
I watch with amazement as they deftly decode their children, sense the needs, fill the gaps and provide opportunities for growth and challenges.
You'd never know they're learning as they go, sometimes adlibbing, other times completely winging it.
No mom ever gets it all right all the time. If you were blessed, like I was, to have a mom who gave it her best, you have been richly blessed.
If your mom is still living, acknowledge what she has done for you. You can just say thanks. She'll know what you mean. And her heart will probably melt.
To all you moms still in the trenches, give it everything you've got. Keep loving, keep learning and keep pushing forward because being a mom is the most important job you'll ever have.
Comments
comments