Our son called the other day and said, "Do you remember what you always used to tell me when I was growing up?"
My mother's heart nearly pounded out of my chest. This was unbelievable. He actually remembers something I used to say. This is a lifetime high in a mother's life because when you are in the active stage of mothering you are pretty sure every single thing you say goes in one ear and other—like a wind tunnel.
My only hope was that the wind tunnel would occasionally fritz out and something would stick. I didn't care what. Something. Anything.
Now here he is, 41, married, father of five, gainfully employed, making a FaceTime call that keeps breaking up to ask if I remember what I used to tell him all the time as a kid.
Tissue, please. Oh, just give me the whole box.
If only someone else was in the room to witness this.
What was it he remembers? What was it I used to tell him over and over?
I used to say, "Muddy boots stay in the garage."
"When I say, take a shower, I mean take a shower, don't just run the water and make me think you're taking a shower!"
"No more live snakes from the creek in the aquarium."
"Open a door for a woman, even if she smacks you."
"Choose your friends wisely."
"As you grow older, the less you answer to us and the more you answer to God."
He was trying to show me something with the camera, but the call kept breaking up.
He hung up, called back and the signal finally held.
"What was it I used to tell you?" I asked.
"Remember? You used to say if I could catch it, I could keep it," he replied.
It was ringing a bell. Actually, it was setting off alarms.
I did often say, "If you can catch it, you can keep it."
Just as there are indoor dogs and outdoor dogs, there are indoor boys and outdoor boys. He was an outdoor boy. He chased rabbits, squirrels, chipmunks, deer, wild turkeys and I cheered him on, "If you can catch it, you can keep it!" The boy stayed outdoors for hours at a time, sometimes even days, running his heart out, chasing wildlife.
He was exhilarated thinking he could bring home any animal he could catch, and I enjoyed knowing he had no chance of catching a wild animal with his bare hands.
"Well, it finally happened," he says, panning the camera down to a tiny gray squirrel nestled in his gloved hand.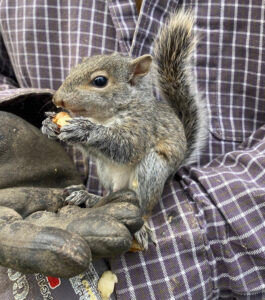 It was a little guy with big beady eyes and a fluffy gray tail, gnawing on a nut it held with its teeny tiny paws. It was adorable. It also had fleas which is why he said he had to hang up to give it a flea bath.
The baby had been abandoned and couldn't have fallen into better hands.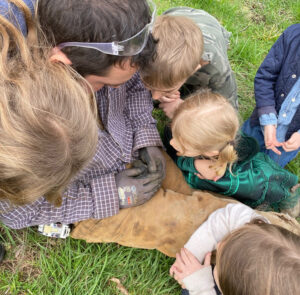 The entire family took turns adoring Chip for an afternoon, then Chip was taken to a wildlife sanctuary the next day.  It was good they were able to part with him before they made a bed for him in the house and set a plate for him at the dinner table.
It was a short dream, but a dream come true. It may have been a dream come true for the squirrel, too. The sanctuary he went to is named "Utopia."
Comments
comments