I don't want to point fingers or name names, but you-know-who is the reason I shop Costco alone. If someone else goes along, we are likely to be pushing a cart so loaded you can't see over the top of it.
I remind him that the reason we joined Costco was because prices at the pharmacy were good when we self-insured.
Well, that and for the rotisserie chickens.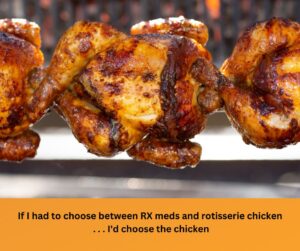 If I had to choose between prescription meds and rotisserie chicken, I'd choose the chicken.
I'd die happy.
He reminds me that we also go for cheap gasoline.
We do. Except that gasoline can be costly, as in, "Since we're here for gas, why not run in and pick up a few things?"
The last time we went in for a "few things," the gasoline came out to $17 a gallon. We can't afford to keep saving money.
In a recent lapse of sanity, we went to Costo together.
I explained that when you shop at a warehouse store you have a list and stick to it. You do not wander around and browse. Browsing is how you wind up with 12 pounds of cashews, evergreen bushes and a 7-piece sectional sofa.
He said he couldn't hear me. I said in that case he should go directly to the hearing department.
We got what we came for and then began browsing. Not just browsing, it was full-on meandering. Wandering. Drifting. Roaming. Strolling. From giant HD televisions to vitamins in gallon-size bottles.
"Look! Lime jalapeno tortilla chips!" he exclaims.
It was a bag the size you would take to a family reunion.
"Ghiradelli brownie mix!"
We'd need a forklift to get the box into the cart.
Then came the samples. Garlic kielbasa. "You can't say no to garlic kielbasa," he says.
"No, but our doctor would."
"Deep dish pizza!"
He says it with the excitement of remote tribes the first time they saw a Polaroid picture.
"Pretzel crisps!"
It's an enormous bag—a bag the size mulch comes in.
"Ask yourself this," I say. "Will I live long enough?"
Pretzel crisps are in the cart. His father lived to be 97. Apparently, he plans on outliving him.
"Tiramisu!" He's a kid in the candy store.
I freeze. It looks delectable.
"When was the last time you made tiramisu?" he asks.
I take the fifth.
"Six individual servings," he notes.
I put my foot down—the one with the running shoe. "No."
We check out and I calculate the cost of gasoline per gallon.
We get home, unpack and open the 'fridge to scrounge something up for lunch. He joins me as we stare at a smattering of leftovers staring back.
"You know what sounds good?" I muse. "Tiramisu."
Comments
comments